---
"It's amazing at how many couples come in to shop for a kilt and the lady's engagement ring. It is usually the first step in the whole wedding process!"Bill Hawes | The Highland Shoppe
When future residents start exploring the neighborhood surrounding The Village at Trinity Hills, they'll be pleased to discover a number of unique and thriving businesses all around them. Of all the excellent area businesses, there is one that really stands out as something special. Located just up the road from The Village at 390 Piita Rise SW, The Highland Shoppe has been in business for over 40 years.
This is a one-of-a-kind shopping destination was founded by dedicated professional bag-pipe players Jeanie Hawes-Schultz and her brother Bill Hawes. Over the years, with support from their mom Irene, Jeanie and Bill grew from their original focus as pipers to include a range of artisanal products inspired by the rich culture of the Scottish Highlands.
This includes kilts, Celtic jewelry such as wedding rings, pendants, earrings, and more. The Highland Shoppe even does kilt rentals for all happy events such as weddings, graduations and other formal celebrations.
We asked co-owner Bill Hawes why he picked west Calgary to build his business and he had this to say: "Our family have owned the land since the early 1960's. It seemed like a great place for us to build our business in the West Highlands of Calgary. We have great proximity to the Trans-Canada highway and close proximity to the City. Besides we have a beautiful view. It is always nice to look out our windows day or night!"
The Highland Shoppe welcomes customers from all cultures and backgrounds, but those with strong family ties to Scotland will appreciate how they get all the details just right. This is especially true for those who identify as members of a Celtic clan, which is something between a tribe and an extended family. "Celtic clan affiliation is a big part of Celtic Culture. So we offer kilts in clan tartans and jewelry that can be hard to find in Canada," says Bill.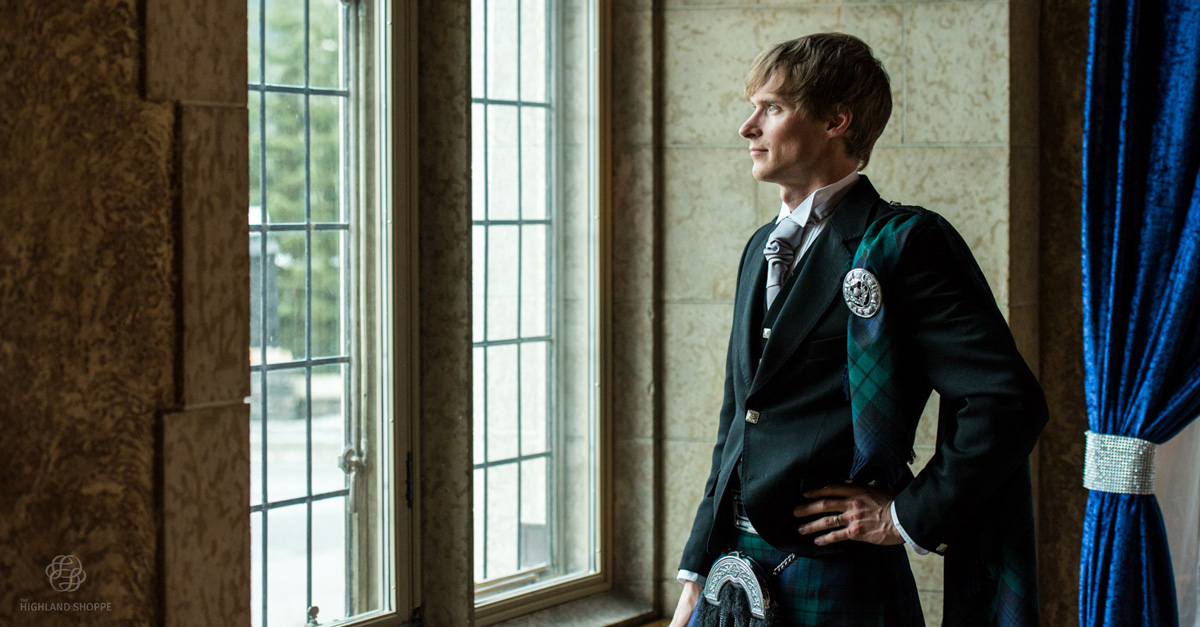 Bill says another big part of their business is traditional Celtic wedding rings: "It's amazing at how many couples come in to shop for a kilt and the lady's engagement ring. It is usually the first step in the whole wedding process!"
In fact, Bill says The Highland Shoppe can help provide a complete Celtic wedding experience: "We are very honored to have been able to be a part of so many weddings be it through providing Celtic Wedding Rings, Highland Dress or playing at the ceremony. We believe we really add a personal touch to the couple's very special day!"
In a neighbourly fashion, The Village at Trinity Hills team wanted to get Bill's thoughts on our new development, and he had this to say: "Well initially you do not know what change will mean since we have been here for so many years! However, we look forward to the great amenities that will be offered in the neighborhood. My sister Jeanie and I have a deep connection with our property. We both run along the trails and also mountain bike with our families. It is a real magical area, a gem if you like, as there are amazing trails with beautiful springs and water courses throughout. Some of the businesses announced really excite me such as the Goodlife and the MEC. From the plans I have seen the project is a world class development which in my opinion has conserved the most beautiful and significant lands in the area!"
Thanks for the kind words Bill! The entire Trinity Hills team looks forward to sharing the neighborhood with you for many years to come. To learn more about The Highland Shoppe and the products offered there, visit thehighlandshoppe.com.
---
Here are some more of our most recent posts: